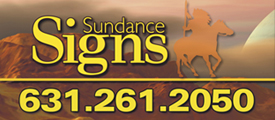 A Business With No Sign Is A Sign Of No Business


The ceremonies involved in naming and launching naval ships are based in traditions thousands of years old. Your personal interests and love of tradition are exemplified by the name you select for your craft. What better way is there to share your pride of ownership than a custom yacht sign of stainless steel, visible both day and night, that makes a bold statement of arrival?
Stainless Steel lettering is the perfect finishing touch
Why do so many high-end luxury yacht owners source their custom boat lettering from Sundance Signs? In a word, service. From the moment you purchased your

Why have hundreds of yacht owners chosen our services?
Your custom-designed yacht sign letters will be lovingly handcrafted by local artisans of the highest quality 304# stainless steel. Like the gelcoat of your craft, this material offers superb resistance to corrosion, both in terms of pitting and discoloration, required by the marine environment. Not only is your yacht sign crafted of quality materials, it can be fabricated with a variety of unique colors and finishes, from a satin to a high polished look further complementing your vessel's design.
Our LED illumination technology, rated for flawless low power operation for 40,000 hours of operation or more, is available in a variety of different color options.
LED-backlit signs designed to your specifications
yacht you have dreamed of the day she would be launched. We understand how integral the look and feel of your craft's lettering is to the overall appearance of your yacht, and ultimately, your luxury experience. Every detail of your yacht sign is evaluated and scrutinized during the design and fabrication process to ensure you have an unparalleled result.
It's no wonder that every Azimuth Yacht delivered on Long Island bears the fine workmanship of a stainless steel, back lit, LED yacht sign custom crafted by artisans here on Long Island. Shouldn't your yacht also benefit from the quality these luxury yacht owners experience? Let Sundance Signs craft you a custom sign.
Who wouldn't want their business represented by a totally unique custom carved sign featuring incredible art work or their custom logo? Whether you're seeking something crafted out of traditional wood or a more durable and less expensive faux wood composite, let us create a custom sign for your store front, lawn or backyard recreation space.
The appeal of classic wood and gilded signs
With more than 25 years of successful operation behind us, you know you can count on our team to provide the custom signs you need no matter what obstacles stand in the way.
Get the perfect sign at the perfect price with
one call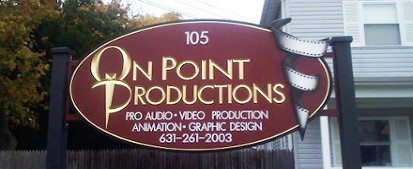 Enhance your sign with any number of attractive styles: landscape, nautical, fishing, drinking, wild, farm and domestic animals, or even sports icons. Totally unique custom carved signs featuring incredible art work or your custom logo are among the many choices available to you.
You might also consider the many residential uses for a classic carved look wooden sign, including your primary residence, waterfront vacation home, or cabin. Other residential uses such as game rooms, poolside and other outdoor entertainment areas are welcome as well!