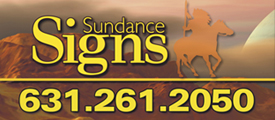 A Business With No Sign Is A Sign Of No Business


Your vehicles are truly mobile billboards, and are an essential element in getting your business noticed! Make your vehicle stand out! Having lettered thousands of vehicles, Sundance Signs has a sterling reputation for lettering trucks, vans, cars and box trucks.
Don't settle for temporary or makeshift signs crafted from inferior hardware store products or online providers. We can craft your vehicle lettering in a wide variety of font styles and colors. When you use our professionally die-cut vinyl lettering on your vehicle, window, or sign surface, you will instantly appreciate the results.
Display your company's name on the open road
If you have a logo or design you are currently using, or if you would like something completely new and different, we can help make your business stand out. If you have always used a traditional

Fresh and effective advertising can be affordable
vinyl lettering or magnetic signs in the past, you may no longer be getting the impact your business needs as potential clients no longer notice your over-exposed design. Maybe it's time to "punch it up" a bit with something totally different like a new design or, for an even bigger impact, a total vehicle wrap!
Whatever you decide we can give you excellent guidance in the decision making process. You'll be proud of the eye catching results you can get from our vinyl lettering, wraps and magnetic signs – all professionally installed by our experienced staff.
Note: We can also provide US DOT MC ICC and GVW vinyl truck numbers / lettering.
The name you have decided to christen your boat reflects your personality and interests and so should the lettering you pick for her as well. Personalize your favorite watercraft with custom boat lettering. Available in a wide variety of font styles and colors, your design can run the gamut from bold and brash poster Boldoni to the more informal Comic Sans.
Looking for something a little more exciting than just a name? We can add your company logo or even create a custom graphic for the transom of your craft. Even if you have outboard motors or a personal watercraft, we can help you decorate it in style.
Vinyl lettering is available in a variety of colors and can be made to fit whatever space you have available. Professionally installed on your boat by our experienced crew, your boat letting will give you pleasure for many years to come.
Show pride in your boat in an affordable way
With more than 25 years of successful operation behind us, you know you can count on our team to provide the custom signs you need no matter what obstacles stand in the way.
Get the perfect sign at the perfect price with
one call