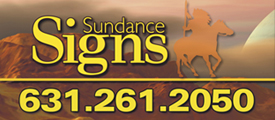 A Business With No Sign Is A Sign Of No Business


If you can draw it, paint it, photograph it, or even just imagine it, we can create any size representation of your vision. Our brand-new custom wallpaper printing even allows you to extend your creativity to your walls! Whether you want to wallpaper a lobby with your firm's logo or line your hallways with a custom nighttime cityscape photomural, the opportunities are endless.
Let your imagination run wild and express your creativity with this fabulous new way to be your own personal interior designer. At a fraction of the cost, you can have your own artwork or photography printed on actual wallpaper stock that you can hang in your home or business for an unrivaled custom look.
Make any room stand out with digital printing
• An exterior Tuscan landscape on your family room wall
• A famous pubscape for the back wall of your bar
• A Human-sized rendering of musical instruments for the halls of your recording studio

Have you thought about what your space might look like with:
If you do not have your own artwork for your custom wallpaper, there are countless sites on the internet where you can find high quality photos and graphics to create your custom design or, for a small charge
we can create one for you!
The design you want is the design you get!
With more than 25 years of successful operation behind us, you know you can count on our team to provide the custom signs you need no matter what obstacles stand in the way.
Get the perfect sign at the perfect price with
one call
• Serene white sands of a beach on your cabana or bathroom wall
• Video game characters in the game room
• A relaxing meadow scene or waterfall at the head of your bed
• Contemporary evening cityscapes in the office lobby
• Your company logo covering the hallways or behind the reception desk