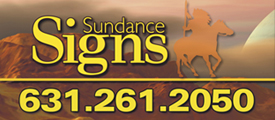 A Business With No Sign Is A Sign Of No Business


At Sundance Signs, we're always looking for a challenge. If you have a problem that can't be solved with our standard products or designs, let us know! From illuminated signs for storefronts to banners for your organization's big event, we have an endless number of options that will work for you. Our products are available in any size, from decals for radio-controlled cars to full-sized vehicle wraps.
Work with our designers to reach your goals
Your vehicle's magnetic sign shouldn't have to look boring. Current digital printing technologies have revolutionized sign making – even the humble magnetic sign. Design a whole new graphic or let us reproduce the one you currently use. You can order any size or color, and we use only the highest quality magnetic material for your signs.

Put our magnetic graphics to work for you
Whether you are looking for a banner mounted on your town's street light poles, need a background banner for a fair, or are looking for photo-digital freestanding banners to augment your trade show display, let us create your vision. From lightweight to heavy-duty, for outdoor or indoor use, we can provide you with the right banner for your needs.
Please visit our online photo gallery then give us a call and tell us about your idea, or ask us for some advice.
Every event can benefit from effective use of signs and banners
No matter what service you provide, help your great reputation spread by putting your company name, logo, and telephone number in front of your jobsite. These signs are great for encouraging neighbors of your customers to call your construction, remodeling, painting, or landscaping company first! Low-cost plastic, aluminum, or wood job site signs with no minimum quantity order are available. We even can provide quality stands for your new or existing signs.
Show the neighborhood who is responsible for your beautiful work
With more than 25 years of successful operation behind us, you know you can count on our team to provide the custom signs you need no matter what obstacles stand in the way.
Get the perfect sign at the perfect price with
one call