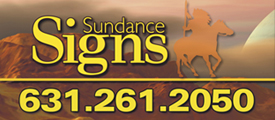 A Business With No Sign Is A Sign Of No Business


Serving the Greater Huntington Area Since 1986
With more than 25 years of successful operation behind us, you know you can count on our team to provide the custom signs you need no matter what obstacles stand in the way.
Honed by years of experience with both traditional and contemporary sign fabrication techniques and technologies, Sundance is uniquely positioned to offer a wide array of different formats unavailable through other local
Exceptional Sign Making Experience
Operating from their office in the Hamlet of Greenlawn, neighboring the Village of Huntington, NY, Sundance enjoys easy access to both Nassau and Suffolk counties, as well as Brooklyn, Queens, Staten Island and New York City. Clients from as far away as Montauk and the Hamptons to New York City and even Dublin, Ireland have made Sundance their choice for custom signs.
Centrally Located in Western Suffolk County near Nassau County
Get the perfect sign at the perfect price with
one call
An Individualized Customer Experience
After graduating with a degree in Art back in the 1980′s, Jeff sought out a career that would take best advantage of his creative talents while developing a marketable skill and steady income. As luck would have it, Jeff was hired as a part-time worker by George Dunn, a renowned locally based hand-painted sign artist and professional. Moving from part-time to full-time employment, Jeff essentially apprenticed at the hand of a master painter for almost three years.
In the mid to late 1980′s, it became clear to Jeff that computers were poised to revolutionize the sign making business so he and a partner set out on their own by starting a business in his parent's basement and Sundance signs was born. Within two years they had moved out of the basement into their first shop as their business began to grow. Within five years the thriving sign business could no longer be contained in the small shop, hence the final move to the current Greenlawn location at 41 Broadway, Greenlawn New York – in the Town of Huntington. While the partners eventually went their separate ways, Sundance moved forward under Jeff's direction. All the while Jeff's son Erik, from toddler to teen, spent countless hours playing, observing and eventually apprenticing at his father's knee until today where they work side-by-side.
Jeff Borenstein, Entrepreneur and Owner, Sundance Signs and Graphics, Inc.
outlets. From the traditional hand painted, hand carved and gilded wooden signs of old to their unique stainless steel, backlit channel boat and yacht lettering personalized for luxury boat owners, Sundance brings an exceptional level of quality and customer service to each and every customer and project.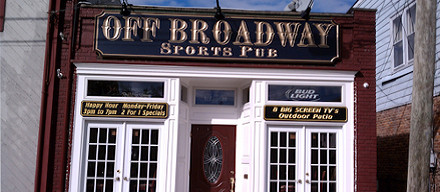 Locally owned Sundance Signs and Graphics is a one stop shop for all your custom sign, boat and yacht lettering and other outdoor advertising needs. Privately owned and operated, Jeff Borenstein (now with the help of his son Erik) has been servicing clients in and around the greater Huntington, NY area with custom signs, boat and truck lettering, carved and channel signs, and other similar marketing products since before the era of computerized design.
By taking their time with each client, sharing ideas and offering suggestions and guidance, Jeff and Erik deliver unexpected value to each and every customer. You are not just one out of hundreds of customers at Sundance – you are more than that- you are a client. Sundance is proud of their many long-term client partnerships, developed over years of consultation and collaboration. Whether you are unsure of the best way to showcase your business or already know exactly what sign design or product you are looking for working with Sundance ensures you will be satisfied with the end result.
The future looks very bright for Sundance as they have upgraded their space to better serve clients both new and old. Together with a well-established cadre of specialized sign making professionals, Jeff and Erik look forward to meeting you and exceeding your expectations on every level. Please call 631-261-2050 to schedule your free consultation or price quote with Jeff and Erik today.